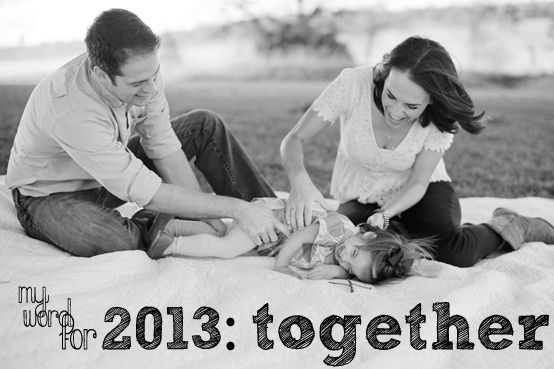 During these first few weeks of the new year , as we have settled back into old routines , I've also dedicated a fair amount of time focusing on how I can set new goals to keep me moving forward and continuing to grow as an individual , as well as how we can continue to evolve as a family .
I'm not much of a resolution maker - I sometimes get discouraged when I make incredibly specific goals and don't meet them. So this year I decided to dedicate myself to one word - a word that will sum up my hopes , desires , and dreams for the year ahead .


For the year of 2013 , my word is together .
When I think of the word " together " , so many other words come to mind : time , relationships , goals , educate , integrity , growth , self assurance , routines , habits , lists , accomplishments , creativity .
This year will be a year where the time we spend - both at home and in travel - is spent together .
This year will be a year when our house will come together and finally become a home .
This year we will come together as a family and grow in the gospel .
This year , I will be a more together individual .
There is so , so much more that I could say about this topic , but I've decided to try and keep my thoughts on here short and concise , just to see how that feels for a while .
What will your word be for 2013 ?